Guitarras
Bob Bain "Son Of The Gun", nueva Telecaster de la Fender Custom Shop
Bob Bain es un guitarrista de sesión estadounidense que comenzó a tocar a finales de los años 30, y desde entonces, no ha cesado de trabajar. En su dilatado currículum se encuentran hazañas como haber trabajado para Frank Sinatra, Nat King Cole, Ray Charles, Quincy Jones, o haber sido el guitarrista que interpretó piezas del mundo del cine y la televisión como "Peter Gunn", "Misión Imposible" o "Batman". Y durante 22 años fue el guitarrista de The Tonight Show Band, la big band televisiva de referencia del jazz estadounidense. La lista detallada de su trabajo es tan impresionante que nos hemos permitido incluirla al final del artículo, obtenida del monográfico sobre Bain de Vintage Guitar Magazine.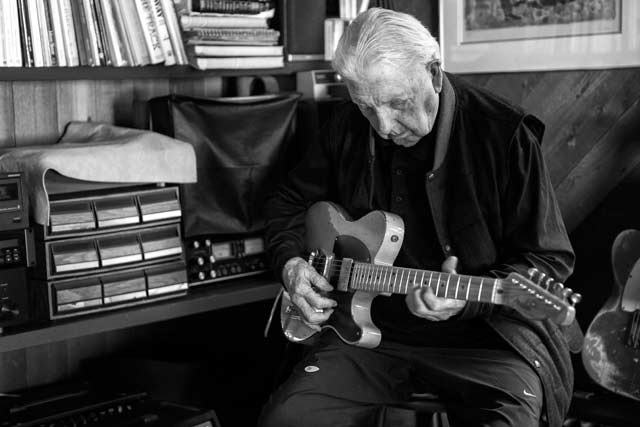 La guitarra preferida de Bob era una Telecaster de 1953, que Fender ha recreado y puesto a la venta a través de su Custom Shop, se trata de la Bob Bain "Son Of The Gun" Telecaster. A cargo del Master Builder Paul Waller, mantiene todos los detalles del original utilizado por Bain, y será puesta a la venta el 4 de Abril, aunque sólo habrá 30 ejemplares disponibles. A nivel de construcción consiste en un cuerpo de fresno combinado con un mástil de arce de 21 trastes y radio 7.25". ADemás, presenta un trémolo Bigsby que le brinda una mayor versatilidad estilística.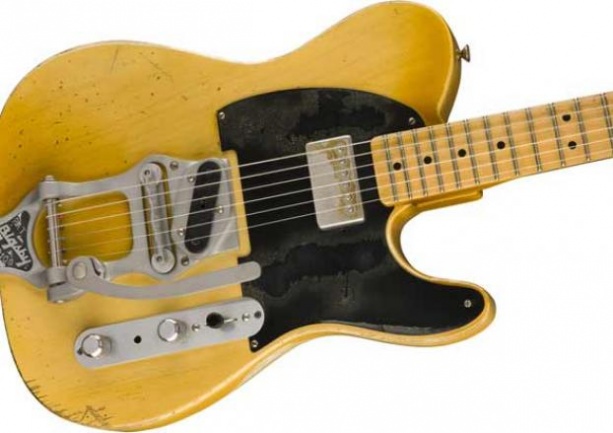 Las pastillas empleadas son una sinle coil Hand-wound '51 Nocaster en el puente, y una Seymour Duncan '59 en posición de mástil. Aunque la guitarra viene absolutamente desgastada para imitar las heridas de guerra que presentaba la original, incluye estuche duro deluxe para evitar ocasionarle nuevas cicatrices.
El currículum de Bob Bain
(obtenido del artículo biográfico de Vintage Guitar Magazine)
Películas:
Airport '75
Alvarez Kelly
Baby The Rain Must Fall
Batman
Blazing Saddles
Breakfast At Tiffany's
Butch Cassidy And The Sundance Kid
Bye Bye Birdie
Cape Fear (Original '62 Version)
Cat Ballou
Cincinnati Kid
Conrack
Days Of Wine And Roses
Doctor Dolittle
Dr. Zhivago
Escape From The Planet of Apes
Finians Rainbow
Gidget Goes To Rome
Hatari
Hello Dolly
High Plains Drifter
How The West Was Won
Hud
Hush Hush Sweet Charlotte
In Harms Way
It's A Mad Mad World
Jaws
Jumbo
Lillies Of The Field
Love Story
Madame X
Magnificent Seven
Midway
Nightwing
Ode To Billy Joe
Omega Man
Our Man Flint
Paint Your Wagon
Play It Again Sam
Ride The Wild Surf
Rosemary's Baby
Sand Pebbles
Silver Streak
Stagecoach
State Fair
Summertree
The Dirty Dozen
The Green Berets
The Longest Yard
The Pink Panther
The Sting II
Thomas Crown Affair
Tom Sawyer
Tora Tora Tora
Under The Yum Yum Tree
Valley Of The Dolls
Wait Until Dark
Walking Tall
Who's Afraid Of Virginia Wolf
Willy Wonka And The Chocolate Factory
10
Yes Giorgio
Thornbirds
Grabaciones para discos
Nat King Cole…. Unforgettable"
Frank Sinatra…. "I've Got You Under My Skin"
Rosemary Clooney…. "Come On A My House"
Doris Day…. "Que Sera Sera"
Henry Mancini…. "Peter Gunn", "Pink Panther"
Tommy Dorsey…. "Opus One"
Dave Rose…. "The Stripper"
Nelson Riddle…. "Lisbon Antigua"
Percy Faith…. "The Summer Wind"
Peggy Lee…. "What's New"
Otros artistas para los que trabajó
Elvis Presley
Barbara Striesand
Tony Bennett
Perry Como
Kennny Rogers
Lou Rawls
Linda Ronstadt
Ella Fitzgerald
Quincy Jones
Sarah Vaughn
Glen Campbell
Vicki Carr
Four Freshman
Hoyt Axton
Roger Miller
Hi-Lows
Ray Charles
John Williams
Andy Williams
Sammy Davis Jr.
Doris Day
Shelly Mann
Bill Conti
Lani Hall
John Mandell
Petula Clark
Nelson Riddle
Michel Legrande
Dionne Warwick
Sam Cooke
Bobby Darin
Connie Francis
Ricky Nelson
Mamas & The Papas
Nancy Sinatra
Tom Jones
Anita Kerr
Programas televisivos
"Daktari"
"Bonanza"
"Dallas"
"Dynasty"
"Medical Center"
"Academy Awards"
"Quincy"
"Mash"
"Happy Days"
"Kojak"
"Incredible Hulk"
"Starsky & Hutch"
"Bob Newhart"
"Laverne & Shirley"
"Carol Burnett"
"Ozzie & Harriet"
"Benson"
"Bionic Woman"
"Waltons"
"Mary Tyler Moore"
"Hart To Hart"
"Barnaby Jones"
"Rhoda"
"Charlies Angels"
"The Fugitive"
"Checkmate"
"Mission Impossible"
"Peter Gunn"
"Mr. Lucky"
"Emergency"
"The Deputy"
"Lou Grant"
"Wonder Woman"
"Six Million Dollar Man"
"My Three Sons"
"Trapper John M.D."
"The Munsters"
"Fantasy Island"
"Bewitched"
"Alice"
"Adam 12"
"Family"
"Batman"
"Columbo"
"Rockford Files"
"Baretta"
"Wild Wild West"
"Adam's Family"
"Andy Griffith"
"Beverly Hillbillies"
"Hunter"
"Highway To Heaven"
"McMillan And Wife"
"Get Smart"
"Twilight Zone"
"Little House On The Prairie"
"Alfred Hitchcock"
"Lawrence Welk"
"Mr. Belvedere"
"Gunsmoke"
Más información | Fender