Artistas
Grandes guitarristas rinden tributo a Gary Moore en el álbum "More Blues For Gary"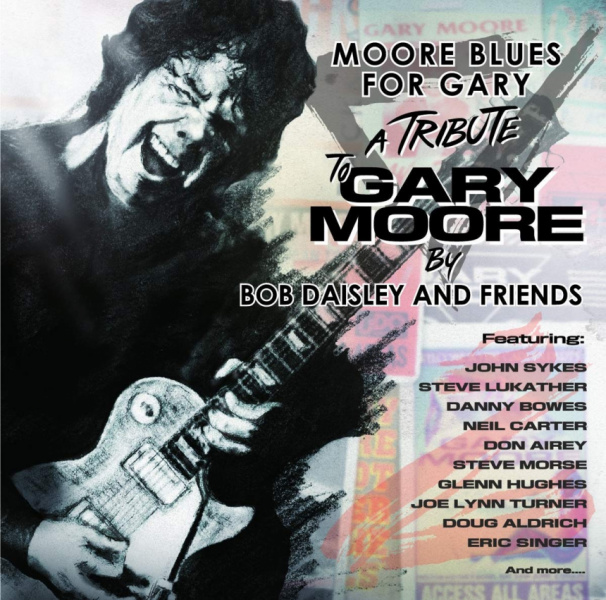 Coordinado por el productor y bajista Bob Daisley, músico de Gary Moore desde los 80, y con la colaboración de la familia del guitarrista, "More Blues For Gary" es una colección de versiones centrada sobre todo en su etapa Blues, y protagonizada por músicos como Doug Aldrich (Whitesnake, Dio), Steve Lukather (Toto), Danny Bowes (Thunder), Glenn Hughes (Deep Purple), Joe Lynn Turner (Rainbow), Steve Morse (Deep Purple, Dixie Dregs), John Sykes (Thin Lizzy, Whitesnake), Neil Carter (UFO, Gary Moore), o Eric Singer (Kiss), además de los hijos de Gary, Gus Moore a la voz y Jack Moore a la guitarra en el tema "This One's For You".
Según Bob Daisley, quien participa como bajista en todos los temas, la intención de este álbum no era recrear nada de lo que Gary había hecho, ni competir de ninguna manera, sino un sentido tributo de sus compañeros.
"Cuando Gary falleció en 2011, el mundo perdió a uno de los grandes de todos los tiempos. No creo que se haya dicho o hecho lo suficiente en ese momento para reconocer la pérdida de un guitarrista tan extraordinario, así que me propuse rendirle homenaje y grabar algunas versiones nuevas de su música, principalmente de su catalogo blues. Estos arreglos e interpretaciones representan un 'hats off' (un "me quito el sombrero") ante Gary, y nada más".
Hasta ahora se han publicado 3 temas completos de este trabajo que podéis escuchar en Youtube. "Parisienne Walkways" con Steve Morse, "Still Got The Blues" con John Sykes, y "Empty Rooms" con la voz de Neil Carter, quien fue coautor de la canción junto a Gary Moore:
"Moore Blues for Gary - A Tribute to Gary Moore" saldrá a la venta el próximo 26 de octubre.
A continuación tenéis la lista completa de temas y músicos que han grabado en cada uno:
1. That's Why I Play The Blues
Vocals: Jon C Butler, guitar: Tim Gaze, bass: Bob Daisley, drums: Rob Grosser, keyboards: Clayton Doley
2. The Blues Just Got Sadder
Vocals: Joe Lynn Turner, guitars Steve Lukather/Tim Gaze, bass: Bob Daisley, drums: Rob Grosser, keyboards: Clayton Doley
3. Empty Rooms
Vocals/keyboards: Neil Carter, bass/harmonica: Bob Daisley, drums: Rob Grosser, guitar: Illya Szwec, backing vocals Rosanna Daisley
4. Still Got The Blues (For You)
Vocals: Danny Bowes, guitar: John Sykes, keyboards Don Airey, bass: Bob Daisley, drums Rob Grosser
5. Texas Strut
Vocals: Brush Shiels, bass: Bob Daisley, guitar Tim Gaze, drums Rob Grosser
6. Nothing's The Same
Vocals: Glenn Hughes, bass: Bob Daisley, cello Ana Lenchantin, guitar: Luis Maldonado
7. The Loner
Guitar: Doug Aldrich, drums: Eric Singer, bass: Bob Daisley, keyboards: Don Airey
8. Torn Inside
Vocals/guitar Stan Webb, bass/guitar: Bob Daisley, drums: Darrin Mooney, keyboards: Lachlan Doley
9. Don't Believe A Word
Vocals/guitar Damon Johnson, bass: Bob Daisley, drums Rob Grosser, guitar: Illya Szwec
10. Story Of The Blues
Vocals: Jon C Butler, bass/guitar: Bob Daisley, guitar: Tim Gaze, drums: Rob Grosser, keyboards: Lachlan Doley, backing vocals Rosanna Daisley
11. This One's For You
Vocals: Gus Moore, guitars: Jack Moore, Illya Szwec, bass: Bob Daisley, drums: Rob Grosser
12. Power Of The Blues
Vocals: Joe Lynn Turner, guitars: Jeff Watson, Illya Szwec, bass/guitar: Bob Daisley, drums: Darrin Mooney
13. Parisienne Walkways
Guitar: Steve Morse, vocals: Ricky Warwick, bass: Bob Daisley, drums: Rob Grosser, keyboards: Clayton Doley
Más información | Gary Moore